2 tags
Boom! Get your head shot with Shuli! This week!
NWC member and professional photographer, Shuli Hallak, will be taking headshots right here at our office this Thursday, May 23rd. Services will be provided to all NWC members at a discounted rate of $75. Friends of NWC members are eligible for the discounted rate if pre-paid by this Tuesday May 21st. After Tuesday, non-member price will be $90. Be sure to sign up early if you're...
4 tags
We're hiring! Help us have a bigger impact on NYC...
Cross-posted from Tony's personal blog. Inspiration for this post brought to you by coffee, good friends, and the Code Your Face Off soundtrack on Songza! See the full job posting here and apply here! I've enjoyed taking a casual approach to building New Work City. It's just my disposition. After nearly five years of organizing, however, I'm finding myself increasingly...
DIY Holiday Festival - Friday, 12/16!
Once again, the inimitable Leo! Hello fellow coworkers! The holidays are approaching, and New Work City wants to share the festivities with you!  True to the spirit of New Workers and to the spirit of the season, our community will be hosting an all-day "DIY Holiday Festival" filled with Do-It-Yourself activities and good times for NWC members and guests of members. During the day...
NWC December Foursquare Challenge!
The following is a guest post by Leo Newball, a fabulous member and our current Foursquare Mayor. Being the Foursquare Mayor of New Work City has its privileges! There's access to the mayor's bathroom, a personal chef who cooks all of your meals fresh and based to your liking, and the keys to the coworking Tesla Roadster 4 (it's not even out yet!). Outside of the grand pompus and stature of being...
3 tags
Printing sucks. Let's help HP make it suck less.
Just when I was ready to stop seeking new sponsors, HP showed up. Their support will help us make some much-needed improvements to the space and help us clear some of our debt, which will be a huge help in securing us for the long term. It will also give us some oxygen to work on some fun projects I've had on the shelf for a while. When it comes to sponsors, I'm ultra-wary of only...
4 tags
100 Members
I'm writing this post from a cozy East Village cafe called Table 12. With wi-fi, good music, and friendly staff, it's a great place to sit and write a blog post. It's also half a block away from another cafe that closed a few years ago called Gramstand. It was the home base for our budding new community in 2007 and 2008 before we had a space and before we were New Work City.  ...
1 tag
6 tags
More than a workspace, when I see Maryann walk...
New Work City has always been more than just a place to work, but "New Develop Your Independent Career Alongside Like-Minded People City" just didn't have the same kind of punch.  Nevertheless, it is our mission to make it easier for people to work for themselves, and having a place to gather and work is only one part of that equation.  We also need guidance. Structure....
Introducing the NWC Royale Membership
Shortly after opening New Work City, we premiered a new membership model that emphasizes participation in the community over simply how many days you come in.  The price points— Citizen for $300/month and Day Tripper for $100/month, fit well into the budgets of most of our prospective members. For a small but important handful of people, however, there is a need for something more. While...
NWC Members from TouchGraph Visualize Who Met Who...
NWC Members Alex Shapiro and Zach Parness run TouchGraph, which does amazing visualizations of social networking data.  They just released a new visualization, using publicly visible data, on who met who using Hashable at SXSW.  It's pretty damn awesome. Check out his post here: http://touchgraph.com/news And go right to the awesome visualization engine thingy here:...
Mind Your Business - Get your company's taxes in...
[Update: This course has been postponed so that it may be added to a larger educational effort in the near future! Stay tuned here for details.] Taxes. Few words so consistently strike fear and confusion into the hearts of so many business owners. It's March, and if you're like many others out there, you're not looking forward to April. With a little extra education and...
Meet Our New Sponsor, BlackBerry! (And Join us...
Rolling along! As we enter our third month of NWCU goodness, we're excited to announce BlackBerry as our new sponsor! They join Google & Pearson in helping make it possible for us to host some of the best produced Meetup groups in the city.  When we started NWCU, we knew there were opportunities to create real, healthy relationships between sponsoring organizations and our member...
Wanted: One Team of Brilliant World-Changers.
NWC has always been first and foremost about addressing the needs of a growing group of people who, despite being able to work anywhere, didn't have anywhere that was designed to fit their needs. The Venn Diagram of our membership overlaps heavily, but not completely, with the circles of startups and of people developing new technology. This balance has allowed for a healthy mix of people...
Underdogs
I find myself alone in the space again tonight, which is up there with Saturday mornings and showers as being among the best times to contemplate. And write blog posts. I'm sitting on the most comfortable couch in the space which, despite its new brown cover, is still referred to as the "blue couch." I took this couch with me when I moved out of House 2.0, the birthplace of...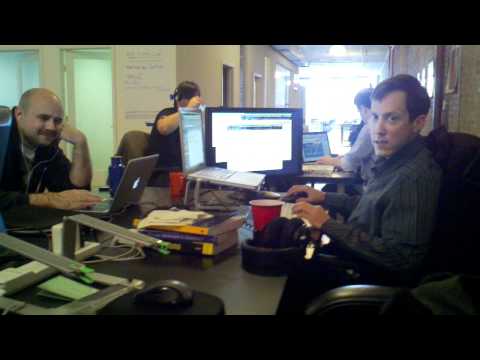 3 tags
Free is awesome, until it's not
Free is awesome. It's especially useful to the many folks, myself included, who are rather short on cash at the moment. As most everyone has come to realize at one point or another in their lives, however, free always comes with some sort of strings attached. In TV, free means commercials. In live music, a free show means you're not guaranteed to hear anything worth more than the price...
Organizers: Apply for NWC's New Events Program!
Events have always been an important part of NWC. From the beginning, I wanted NWC to be a place where event organizers could easily gather their members in a low-cost, flexible environment.  Now that we're turning NWC into something that's self-sustaining, it's time to create some structure around our events programming. That structure should reinforce and augment NWC's...
5 tags
New Memberships!
To date, membership levels have been directly associated with how much one needs to make use of the space— 3 days a week or 8 days a month, for example. This is a notion we're moving away from— membership at NWC is about more than just using the space a certain number of days per month, and the structures should reflect that. After some number crunching and talking with members,...
1 tag
NWC Time Capsule!
NWC occupies a beautiful, hundred year old building at 412 Broadway. The building has a long history and many stories hidden within its walls, and we'd like to leave our mark in a very old school way. We are building a time capsule. It will be placed under the bathrooms before the last wall is closed up tomorrow night, and it will live there to be discovered by somebody from the future! We...
Big Week! Many Updates
Crunch time! The new space opens tomorrow! Lots of things coming together in the days leading up to September 1st:  Kickstarter Success! Thanks to the amazing support of 256 people, we raised $17,911 on Kickstarter! This money will be a critical part of our cash flow as we finish construction and ramp up operations in our new space. In a few days, we'll set out to begin fulfilling our...
Watch
Walkthrough of the space, alive with people working hard on getting it ready!
Watch
The first flush!
"Smart, respectful and innovative office mates, lighting, internet, ample outlets..."
– Best request yet from someone interested in membership at NWC 2.0
2 tags
2 tags
4 tags
5 tags
Support NWC on Kickstarter!
It's go time! NWC is raising money to pay for its gorgeous, amazing, big huge beautiful new coworking space, and now is the time for everyone to step up and help make it all possible. To make this happen, we need to pull out all the stops. To that end, we're looking to raise at least $15,000 on Kickstarter. Back us on Kickstarter now! Then spread the word! Use the social...
Design Huddle: Hogwarts, Submarines & Nerf...
Becca here, the newest addition to the NWC crew. I'm working with Tony and Peter on prepping the new space, and it's really coming together! We just got back from a design meeting, and it looks like everything is starting to fall into place. The brick wall has been exposed, wood floors finished, and painter's tape laid down. While dimensions and layouts are still being adjusted, and likely will be...
New Work City's Future is Here. And it's Awesome.
I've been waiting to write this post for a very long time. Leasing a space for a coworking community in Manhattan is no small challenge, requiring a perfect combination of location, price, size, environment, timing, construction costs, and a landlord willing to give us a chance. After months of hard work, pavement pounding, and late nights, I'm proud to say that, as of today, we have...
Prepaying Membership in the New Space
Update: With the new space opening up, prepayment is now closed. Thanks everyone for your support! To help us get our new space open, we're offering the chance to pre-pay memberships in the new space. The early commitment will help us with construction costs but will also be a great statement about your commitment to our community. Here's what you'd get: Prepay for three months Available to...
NWC Workalong: Let's build this together
One of the takeaways from our last brainstorm session was that NWC should be giving people more ways to help. To that end, I suggested designating a set time when anybody who wants to help can come hack on whatever NWC needs help with. That way, anybody who would like to chip in can do so in a completely opt-in way. We all have busy schedules, but if you can block out a couple of hours, I'll...
Let's Build A Coworking Space. Together. Again.
All right, folks. It's go time. We've got a great space in our sights, the price is right, the location is right, and the landlord is awesome. Now it's time for us to come together and make it happen! In order to make our new home possible, we need the community to come together (again) to step up. Interested in Membership? Sign up! Come visit our current space and try it out,...